Coronavirus updates: Pubs reopen in Australia's New South Wales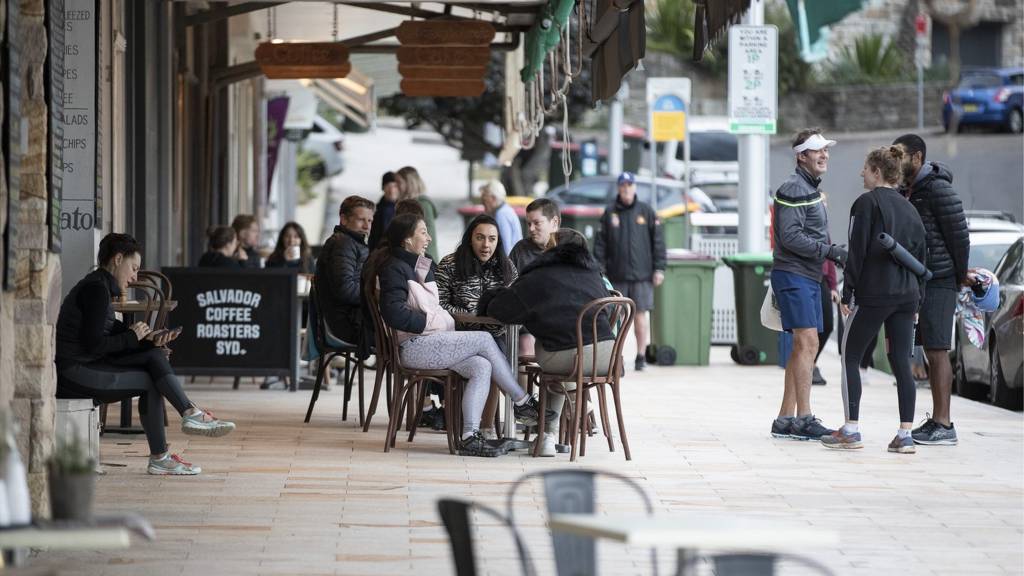 Amsterdam trials 'Covid-safe' restaurantBBC
3,0333,033
viewing this page
Related Video and Audio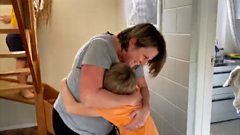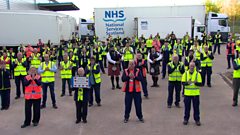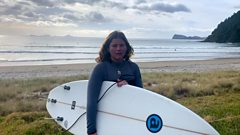 RTL
Got a TV Licence?
You need one to watch live TV on any channel or device, and BBC programmes on iPlayer. It's the law.
Live Reporting
Edited by Owen Amos
All times stated are UK
Fiji throws out fines for Covid-19 rule breakers

A High Court judge in Fiji has thrown out fines handed to 49 people who were caught breaking curfew or social gathering orders.

There is currently a ban on social gatherings in Fiji, which has only 18 confirmed virus cases.

Justice Salesi Temo said the fines were too hefty, calling them disproportionate for the offences committed.

In one instance, a 19-year-old girl was fined FJ$500 (£181) for hugging her boyfriend at a seawall.

WTO head steps down early as downturn looms

Getty ImagesCopyright: Getty Images

The head of the World Trade Organization is stepping down a year earlier than planned, at a crucial moment for the global economy.

Roberto Azevedo's surprise departure comes as the WTO faces the coronavirus pandemic and criticism from US President Donald Trump.

Mr Azevedo said his early departure was a "personal decision" that was in the best interests of the organisation.

India announces free food for fleeing migrants

As part of its $266bn (£216bn) economic plan to combat the Covid-19 lockdown, India will provide free food to domestic migrants for two months.

Finance Minister Nirmala Sitharaman announced that grain supplies worth $463m would benefit 80 million migrants on Thursday.

Since the lockdown began, tens of thousands of migrants have been fleeing cities on foot, trying to return to their villages.

Many of these informal workers, who form the backbone of city economies, feared they would starve in the lockdown.

The plight of these workers – many of whom have been walking for days without adequate food and water – has caused widespread anger in the country.

The announcements on Thursday – the second tranche of a series of economic stimulus measures – were aimed at migrant workers, street hawkers, small traders and small farmers.

EPACopyright: EPA

Image caption: Tens of thousands of migrants have been fleeing cities amid the lockdown

China reports four new cases

China has reported four new locally-transmitted virus cases – all in the north-eastern province of Jilin, which has seen a spate of new infections.

The city of Shulan in the province has already entered a state of lockdown.

The city of Jilin, which shares a name with the province, went into a partial lockdown after six cases emerged – almost all of which were traced to the cluster in Shulan.

Getty ImagesCopyright: Getty Images

Image caption: Jilin city is now under a partial lockdown

Three million in Wuhan already tested

Robin Brant

BBC News, Shanghai

Authorities in the Chinese city of Wuhan say they have tested more than three million people for the coronavirus, as part of fresh efforts to monitor the outbreak.

Earlier this week, officials announced plans to test all 11 million people in the city where the outbreak began last year, after a very small – but worrying – resurgence in reported cases.

Wuhan intends to give a nucleic acid test to all residents to try to find people who are asymptomatic – those who are infected and can pass on the virus, but do not show any symptoms themselves.

There has been a cluster of new cases reported in a housing compound in Wuhan, with dozens of people infected – attributed to an 89-year-old man who fell ill in March.

Getty ImagesCopyright: Getty Images

Image caption: A medical worker takes a swab sample from a Wuhan resident

Pandas head for home after virus bamboo shortage

Two pandas are expected to be returned to China from a zoo in Canada because of a shortage of bamboo.

They'd arrived in Canada in 2014 and were due to stay for 10 years. But pandas only eat fresh bamboo, which the zoo had been importing from China – until coronavirus grounded most flights.

Video content

Video caption: Coronavirus: Bamboo shortage forces Canadian zoo to return pandas to China

Vietnam goes all in to save British pilot

Vietnam is fighting to save the life of its most critically-ill Covid-19 patient, a British pilot who works for Vietnam Airlines.

The 43-year-old man, identified only as Patient 91, has just 10% of his lung capacity left and has been on life support for more than 30 days, said state media outlet Tuoi Tre.

It's thought he caught the virus in a bar in Ho Chi Minh City in mid-March.

The only way to save his life, the health ministry said, is through a lung transplant. Ten people – including a 70-year-old military veteran – have volunteered as lung donors, but have been turned down.

The country's regulations don't allow living people to donate their lungs.

Vietnam has suffered no deaths as a result of the virus – and it's clear it doesn't want this to change.

The country has spent more than $200,000 trying to save the pilot, said the Vietnam News Agency, with a foreign ministry spokeswoman saying the country's "best doctors" were on the case.

Russia sends 25,000 tonnes of wheat to North Korea

Russia has sent 25,000 tonnes of wheat in humanitarian aid to North Korea, its embassy in Pyongyang said in a Facebook post.

The embassy said the ship's crew had since been placed in quarantine and the cargo was unloaded from the ship in an isolated area of the port.

"We had to watch the great teamwork of North Korean longshoremen and railroad workers from afar," said a translation of the statement by the TASS agency.

"We could see that they were doing their best to make sure that not a single grain was lost."

A UN report published in April warned that some 10 million North Koreans were facing severe food shortages.

It's not clear if food supply has been affected by the virus outbreak – Pyongyang maintains that there are no cases in the country.

Russian embassy, PyongyangCopyright: Russian embassy, Pyongyang

Image caption: The unloading of the wheat

Where can you get a beer in Australia?

As reported earlier, the rules regarding pub and restaurant reopenings vary across this vast continent. So where exactly can you get a meal or drink this weekend? Here is what's allowed:

New South Wales: Bars are closed. Restaurants and cafes are open. Pubs are serving drinks if there's a meal order. Maximum 10 customers
Queensland: Same as above, but rural venues can have 20 patrons
Western Australia: Same as above, but 20 customers are allowed from Monday
Australian Capital Territory: Bars, pubs, cafes and restaurants all open with a 10 person limit. Drinks need to accompany meals
Northern Territory: Pubs are serving drinks with meals. Two-hour time limit to dining in restaurants and cafes
Tasmania: Restaurants and cafes are open. Pubs reopen for drinks from Monday. Bars remain closed
South Australia: Only outdoor dining is allowed with max 10 customers. No date yet on when pubs reopen
Victoria: All dining and drinking venues remain closed. No date yet on when they reopen

BBCCopyright: BBC

Ousted US vaccine chief: 'Likely a resurgence to come'

Video content

Video caption: Coronavirus: Ousted US vaccine chief's stark warnings

Congress hears dire warnings about the pandemic in testimony from ex-US vaccines supremo Dr Rick Bright, who says he was ousted for resisting White House political pressure.

How the super-rich spent the lockdown

As the UK headed for lockdown, reports emerged of wealthy homeowners rushing to isolate themselves.

From castles and private islands, to luxury underground bunkers with pools and home cinemas, we take a look at how the super-rich have spent lockdown – and also helped out others.

Video content

Video caption: How the super-rich spent lockdown

Not quite business as usual…

A sign outside a bar in Sydney:

Simon Atkinson / BBCCopyright: Simon Atkinson / BBC

South Korea sees rise in Itaewon cases

South Korea reported 27 more cases on Friday – most tied to a cluster that emerged from a nightlife district in the capital Seoul.

The number of cases linked to the Itaewon district is now 142, as the government attempts to track down those who visited the area at the start of the month.

All bars and clubs in the city have now been shut indefinitely.

The cluster came after South Korea relaxed some of its social distancing guidelines.

Getty ImagesCopyright: Getty Images

Image caption: One of the Seoul clubs that closed after the recent outbreak

'I haven't eaten this well in weeks!'

Simon Atkinson

BBC News, Sydney

BBCCopyright: BBC

Image caption: Graham Cordery is back at his local cafe in Sydney

People in this
city love their cafes – so there are lots of smiles this morning as more relaxed rules allowed
people to sit in for a flat white or smashed avocado on toast.

At Kawa, close to Sydney's city centre, we found Graham
Cordery – originally from Coventry in the UK – tucking into to a cooked
breakfast.

"I can't cook so I haven't eaten this well in weeks,"
he told me.

"I've missed the interaction you get in a cafe so it's great to be
able to come back."

Cafe owner William Walsh has been getting by on takeaway coffees and food, but trade has been down 80 – 90%.

"We're excited to be opening up and having
people at our tables. We may never
get quite back to where we were – this could be the new normal."

BBCCopyright: BBC

Image caption: Kawa owners William and Tina Walsh

New Zealand sees new virus case

New Zealand has reported one new virus case, breaking a run of three successive days with no cases.

The new case is said to be a teenager linked to the Marist cluster in Auckland – one the country's biggest clusters.

Marist College, a Catholic girls' school, has seen at least 85 cases linked to it.

New Zealand is currently at "level 2" alert, meaning shops can reopen, gatherings of up to 100 people are allowed, and public transport has resumed.

Getty ImagesCopyright: Getty Images

Restaurants, cafes and some pubs re-open in Sydney

EPACopyright: EPA

Image caption: Draw up a seat… but stay 1.5m (4.9ft) away from others

Restaurants and cafes have re-opened today in New South Wales, Australia's most populous state. Pubs can also reopen but only for dining
– the bar stays closed.

But while the laws have been lifted, not all venues in Sydney are choosing to open their doors. There's a limit of just 10 patrons at any time – and many places say that's not a profitable number, so they'll just stick with takeaway orders.

It's one of the reasons why Victoria, (where Melbourne is the state capital), has not allowed dine-in trade just yet. It still has the most stringent restrictions in the nation.

But other states and territories are relaxing into the first stage of lockdown exit. In NSW and Queensland this weekend, households can receive up to five visitors and groups of up to 10 people can meet outside, gather for a bootcamp or go to church.

Even greater freedoms are already allowed in South Australia, Western Australia and the Northern Territory.

Australia – seen as a world leader in fighting the virus – has reported under 1% daily growth in new cases for the
past month.

There has been under 100 deaths, most of its 7,000 cases have recovered, and there are only 50 infected people in hospital currently.

Hello and welcome back to our rolling coverage of the coronavirus outbreak. We're writing to you out of Singapore this morning. We'll be joined by our colleagues across Asia and London later on today.

Some good news for those of you based in the Australian state of New South Wales. People are now able to go for a meal at restaurants, pubs, and cafes – though social distancing rules still have to be obeyed, and there are capacity restrictions.

Japan too has lifted its state of emergency in 39 prefectures, after a sharp fall in new infections. Tokyo, however, will remain under the emergency restrictions.

The virus has now reached the world's biggest refugee camp in Bangladesh. Two Rohingya refugees tested positive in Cox's Bazar, where around one million people are encamped.

And in England, a swab test survey has suggested that one in 400 people has the virus – or 0.27% of the population.

There are now over 4.4 million confirmed cases across the world, with some 302,115 deaths.