Sturgeon: Scots 'need to get some normality back'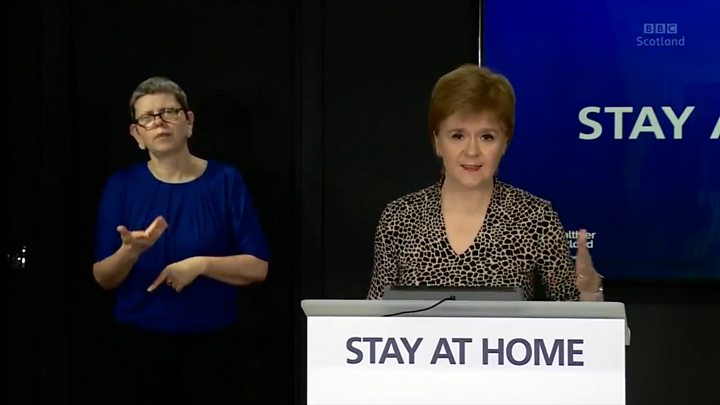 Nicola Sturgeon has said that Scotland "needs to get some normality back" as she hinted that some measures to ease lockdown could be unveiled next week.
The first minister said that any easing would be careful and gradual, because lives are still at stake.
And while she was not yet able to give dates for when things might start to open again, she said that people "can't live like this forever".
Ms Sturgeon said she could outline some "minor changes" next week.
These would be unveiled alongside further details of the range of options the Scottish government has been looking at, she told her daily briefing.
There has already minor easing of the lockdown restrictions in England, with some people who cannot work from home returning to their workplaces on Wednesday.
Most of these measures have not yet been introduced elsewhere in the UK – although the Scottish government has already relaxed its rules to allow outdoor exercise more than once a day and Wales has outlined a cautious route out of lockdown that does not include any dates for when changes could be made.
The number of people dying with coronavirus in Scotland has been falling over the past fortnight, but Ms Sturgeon said further lockdown changes would only be considered when "we hopefully see more evidence of a downward trend in the virus".
And she said she would continue to err on the side of caution for as long as lives continued to be at risk.
'Further phasing'
But Ms Sturgeon added: "We can't live like this forever, so we need to get some normality back as we continue to suppress the virus.
"Even when we can't yet give firm dates on when things will open up again, at least we will seek to share with you the order of priority and further phasing.
"Next week I will share with you more information on the assessments we are making and the range of options we are now looking at, and also any further minor changes we might make in the short-term."
The first minister also said that a balance would need be struck between getting the economy going again and allowing more social interaction.
She said: "A life where you go to work but stay locked down with no family interaction for the rest of the time is not one many of us, if any of us, would enjoy".
Teaching unions have been urging the Scottish government to explicitly rule out the possibility of schools reopening before the new term begins in August.
Ms Sturgeon said there was no chance of schools getting back to normal "in any way, shape or form" before the summer holidays begin next month.
She said discussions were taking place over whether it would be possible for any pupils to return to the classroom by then – but it was likely to be on a "very limited basis" if it was to happen at all.
The virus appears to have hit the central belt of Scotland and its larger cities harder than more rural areas, with Ms Sturgeon regularly warning that the infection rate – the so-called R number – continues to be higher north of the border than it is in England.
Ms Sturgeon said on Thursday her government was "not ruling out" the possibility of more rural areas with fewer cases of the virus having their lockdowns eased first.
However, she stressed that she was not proposing that approach "at this stage".
A further 46 people in Scotland have died after testing positive for the virus, bringing the total by that measure to 2,053.
However, the total number of deaths stands at more than 3,200 once those with suspected cases of Covid-19 are included.
More than half of all registered deaths involving the virus continue to be happening in care homes, although the numbers have been falling.
---
---