Flagship immigration bill returns to Commons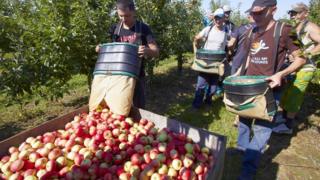 A new post-Brexit immigration system for the UK will move a step closer to becoming law as it appears before MPs.
The immigration bill repeals EU freedom of movement and introduces the new framework – though not exact details – for who can come to live in Britain.
Home Secretary Priti Patel said the government's plans will lead to a "high skill" economy.
But critics said the coronavirus pandemic has changed public attitudes towards those considered "unskilled".
The legislation going before Parliament later will focus on putting EU citizens wanting to move to the country on an equal footing with other nationalities.
But it will also pave the way for the government to introduce a new points-based system, which some say will affect the ability of care workers to come to the UK.
Labour's shadow home secretary Nick Thomas-Symonds said the plans were "not fair and not in the national interest".
He told BBC Radio 4's Today programme the government was deeming people who worked in low paid jobs in the health and social care sector "to be unwelcome in this country", adding: "That that isn't an acceptable way to proceed.
"We see the clap for carers on a Thursday evening. It is wrong to then say on a Monday that you are unskilled, and that people with those skills are not welcome in this country."
The Scottish government's immigration minster, Ben Macpherson, has also written to Ms Patel, asking her to "pause and reconsider" the plans, saying the coronavirus has highlighted the need for immigration in frontline services.
Culture Secretary Oliver Dowden said the plans would give the UK "the opportunity to set our own rules to ensure that we get the people that we need", including for the NHS and care homes.
The legislation, the Immigration and Social Security Co-ordination (EU Withdrawal) Bill, will be debated in the Commons on Monday.
It was first introduced in December 2018 but stalled amid a series of defeats for then PM Theresa May's minority government.
The bill will now be reintroduced to the Commons with Boris Johnson's 80-seat majority, meaning it is likely to pass.
The plan for a new points-based system will need to be separately approved by Parliament, and it is not clear how soon the formal changes to the current rules will come before MPs.
Strict criteria
In February, Ms Patel said people applying to come to the UK under the proposed system will need to meet strict skills criteria.
"We will no longer have the routes for cheap, low-skilled labour that obviously has dominated immigration and our labour market for far too long in this country," she said.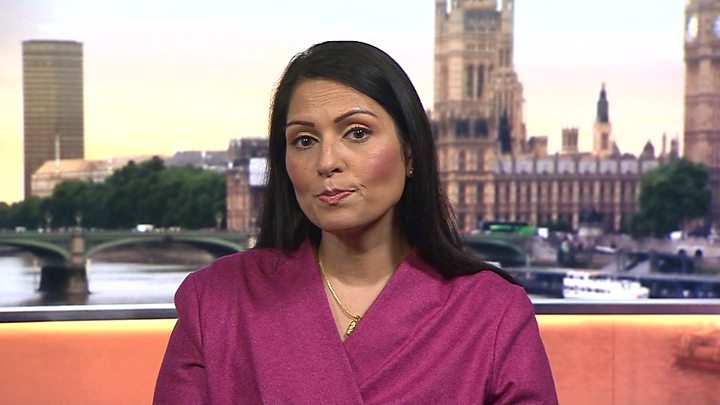 A YouGov opinion poll commissioned by the Joint Council for the Welfare of Immigrants (JCWI) suggests 54% of people now support looser immigration controls for workers regarded as essential during the pandemic.
The government list of critical workers during the crisis includes care staff, food processing staff, supermarket workers, and delivery drivers.
JCWI's Satbir Singh said such workers "are not 'unskilled' or unwelcome, they are the backbone of our country and they deserve the security of knowing that this place can be their home too".
Different approach
The government announced proposals for the new system, suggesting points will be awarded for being able to speak English to a certain standard, having a job offer from an approved employer, and meeting a salary threshold of £25,600.
Other points could be awarded for certain qualifications and if there is a shortage in a particular occupation.
But Mr Thomas-Symonds said Labour was "asking the government to think again".
"What the government… seems to be saying is that your salary reflects your contribution to society," he added.
"If this crisis has shown us one thing, it should show us that that is wrong."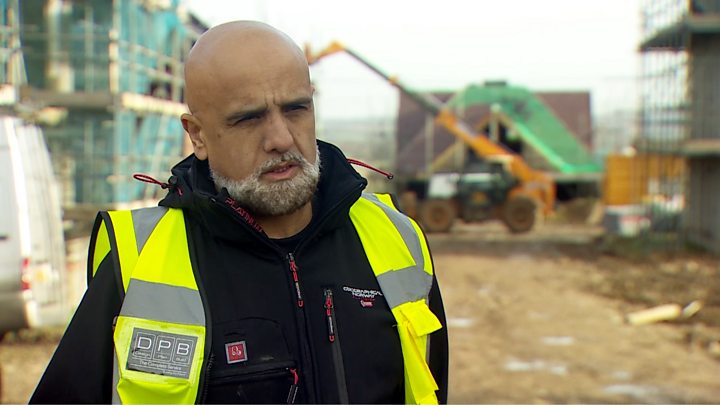 A visa allowing doctors, nurses and health professionals from overseas to work in the NHS was introduced in March.
Mr Dowden said this provided a "fast track application process" and lower fees for those wanting to work in the sector.
He added: "If we go back to the [Brexit] referendum, the central issue there was about taking back control and immigration was an important part of this.
"This [bill] means that finally we determined exactly who comes into this country, and we can attract the brightest and the best from around the world, not just from convenience within Europe."
'High wage, high skill'
The Brexit transition period ends on 31 December – after which the new immigration rules will apply. Irish citizens' immigration rights will remain.
Ms Patel said ahead of the second reading: "Our new points-based system is firmer, fairer, and simpler.
"It will attract the people we need to drive our economy forward and lay the foundation for a high wage, high skill, high productivity economy."